Music Matters: What makes a great film composer?
Conversation with Harvest composer Alex Polakowski
Few genres of film are better known for their music than horror, whether it be the chilling stabbing tones of 'Pyscho' or the blood-curdling strings of 'Jaws', music plays an integral role in horror. The right score can create that unnerving sense of impending doom, emphasis the weird and occult, or having is jumping out of our seats. Music in horror is more than add on; it's an essential character as necessary as the monster itself.
'Harvest' director, Charles Willcocks, and the Pallas team wanted to find a composer who would help create the musical character that and tell the story of Erthog and all those within the world of 'Harvest', and in Alex Polakowski, we believe we have found our maestro. We took the time to talk to him about how he became a film composer.
How long have you been composing?
"I started making music when I was a teenager after my dad bought a midi keyboard and the most basic version of Cubase for our home computer. I loved it. I would experiment with combining sounds and drum samples layering them over general midi sounds while pretending I was DJ Shadow. It was, I admit, a pretty simple start, but using such basic software forced me to push the limits of what was possible with it. I guess this formed the building blocks of my musical experimentation and I've been making electronic and ambient music in my spare time ever since.
What is your background and what was your route to this career?
"I've been playing the drums since I was 13 and I've played in a whole bunch of bands, always with a tendency towards the weird, odd, and usually heavy, but always with some electronic or ambient vibe interwoven in somewhere.

"This musical background is coupled with the fact that my first musical love lies in film scores. I love the atmosphere, mood and images film music can conjure in your mind, so I'm always keen to try and include that in any music I make. As much as I love film scores, this will be my first foray into producing music for a film. And if truth be told I do feel like a bit of an imposter as I'm not classically trained in any way, but I know what sounds good and I believe I can translate that into powerful music for 'Harvest'."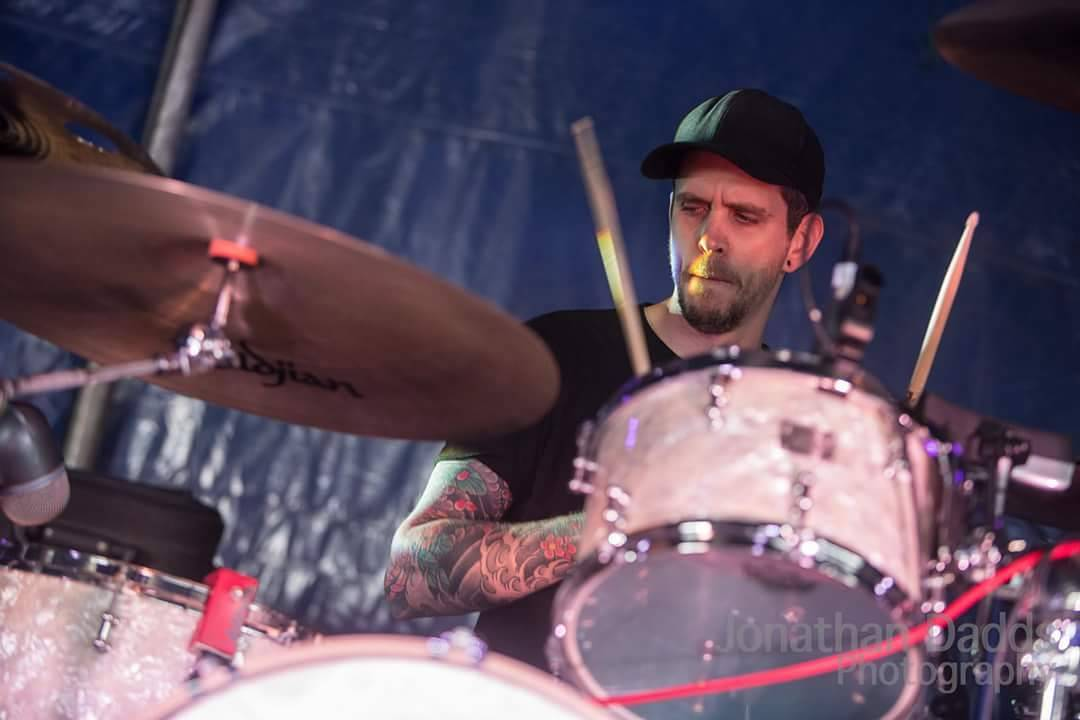 What inspires your work?
"The first film score I became obsessed by was Brad Fiedel's score for 'Terminator 2'. It just didn't sound like anything else I'd heard before. It was quite obviously not an orchestral score and was most likely made electronically, but it still sounded so organic and industrial. I loved that, and I still think it stands up today. It's a shame he doesn't do film scores anymore as he will always be an inspiration to me.
"John Carpenter is another massive influence. Around the time I was obsessing over Brad Fiedel's work, I obtained a copy of John Carpenter's score for 'Big Trouble In Little China', and I fell in love with the stark but warm synth landscape for which he's so famous. Even with that eighties' synth-heavy style making a comeback thanks in part to recent successes like 'Stranger Things' and 'Drive', John Carpenter's music will always be the original and best.
"I love guys like Thomas Newman and Marco Beltrami who despite composing traditional orchestral type scores, aren't afraid to sidestep the orchestral instruments in favour of unusual sounding instruments and percussion.
"Also, as a 'Nine Inch Nails' fan, it's fascinating to hear the soundtracks Trent Reznor has been producing lately."
How do you work?
"I've mentioned experimentation already, but this is the basis for how I work, or at least how I start working. I often have some preconceptions about the tone, or how I think a piece should sound. But it's only once I get sat down at my computer and start trying things out that it starts to come together, and typically those initial ideas can end up as a minor part of the finished piece.
"I also like to incorporate strange and odd sounds into my music. When you're just one person with a computer, there are many tools and techniques with which you become firm friends. Time-stretched sounds, synthesised sounds, manipulated sounds and virtual instruments; they all add to the overall 'weirdness' that I like to convey in my music. No-one wants to keep hearing music that sounds familiar, so why not put your spin on it and create something that seems a bit odd and different?"
What interests you about Harvest?
"A monster story set in rural Yorkshire? What's not to love? Seriously though, the story and script are great. As soon as I read through it I could already hear the sounds and atmospheres in my head; I couldn't wait to get involved."
What's the best film music you have heard recently?
"Colin Stetson's score for 'Hereditary' is bloody marvellous. I was a fan of his already, and to hear him make the saxophone sound so eerie and atmospheric was a revelation.
"I also love Dam Romer's score to the recent TV show, 'Maniac'. He's another artist who's super keen on unusual instrumentation. Most of the percussion in the 'Maniac' score sounds like actual pots, pans and bins - it's so cool. Plus his score for 'Beasts of the Southern Wild' is heartbreaking and is definitely in my top 10 favourite scores of all time.
"Finally, the late Jóhann Jóhannsson's score for 'Mandy' is so good. It's such a shame it became his final score, but what a score to finish on. It's another example of my love of film soundtracks and heavy music colliding, Sunn O)))'s Stephen O'Malley provides the unmistakable bass-rumbling droning guitars that Sunn O))) became synonymous with. What a genius collaboration."